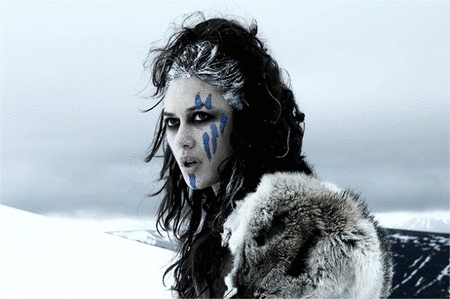 RECENSIONE DEL FILM QUI!
Piccola segnalazione, comprensiva di trailer HD, sul nuovo, prossimo film di Neil Marshall. Gli appassionati e preziosi frequentatori abituali di questo blog sanno benissimo chi è e cosa ha diretto. Per coloro che dovessero ignorarlo posso dirvi che il buon Neil è colui che ci ha regalato buone cose come l'horror claustrofobico The Descent (2005), nel quale un gruppetto di ragazze cazzute affronta albine creature ancestrali in un labirintico complesso di caverne e cose così così come Dog Soldiers (2002) nel quale un gruppo di militari nei boschi scozzesi se la deve vedere con alcuni licantropi e Doomsday (2008), in cui una fulmicotonica Rhona Mitra, munita di occhio bionico, gigioneggia in uno scenario apocalittico post-infezione.
Questo Centurion sembra appartenere al filone new-peplum, sword & sandal, spada & sandalo, ma anche toga & gladio, senza dimenticare qualche strafiga che passa di lì per caso.
http://www.youtube.com/watch?v=LAO9T1wjpfY
Nella Britannia, nell'anno 117 d.C., l'anno in cui Publio Elio Adriano divenne princeps, una legione viene annientata nel territorio dei Pitti. Solo sette i sopravvissuti. Sette uomini che dovranno riportare a casa la pelle, con alle costole delle splendide guerriere pitte che al solo vederle vien voglia di arrendersi…
Diciamo che la trama non sembra 'sto granché, vuoi per il fatto che io la Storia Romana la prendo molto seriamente, essendomici laureato, e quindi soffro per qualunque ipotetico scenario romano raffazzonato e sottoposto a scialbo revisionismo storico che mi trovi a esaminare, vuoi perché sembra l'ennesimo adattamento dell'arcisfruttato Anabasi di Senofonte.
Quindi ammetto di partire un po' prevenuto nei confronti di questo film, ma spero vivamente di sbagliarmi.
Neil Marshall sta cominciando a piacermi come regista e su questo fattore punto le mie esigue speranze di assistere ad un buono spettacolo, non privo, magari, di qualche escursione nel soprannaturale, taciuta appositamente nel trailer.
L'idea che Centurion possa essere un prodotto di solo intrattenimento ci può anche stare. Bei duelli a colpi di spade corte non si rifiutano mai.
Nel cast Michael Fassbender (Bastardi senza Gloria), Dominic West (300), Olga Kurylenko (Quantum of Solace) e Imogen Poots (28 Settimane dopo).
Fonte:
GeekTyrant